Are you new to the world of farming and herbicides? Did you know that herbicides have been used as an inhibitor of the growth of weeds? Essentially, herbicides are chemicals that control the unwanted vegetation growing, known as weed, but which is better – 2, 4-D ester vs amine?
The most important differences between these weed killers are the Vapor pressure, volatility, and water solubility. Ester has a higher vapor pressure and volatility power than Amines.
We'll let you on a secret on some of the best herbicides or weed killers that farmers recommend. Don't worry; you've got this!
What are 2, 4-D Ester?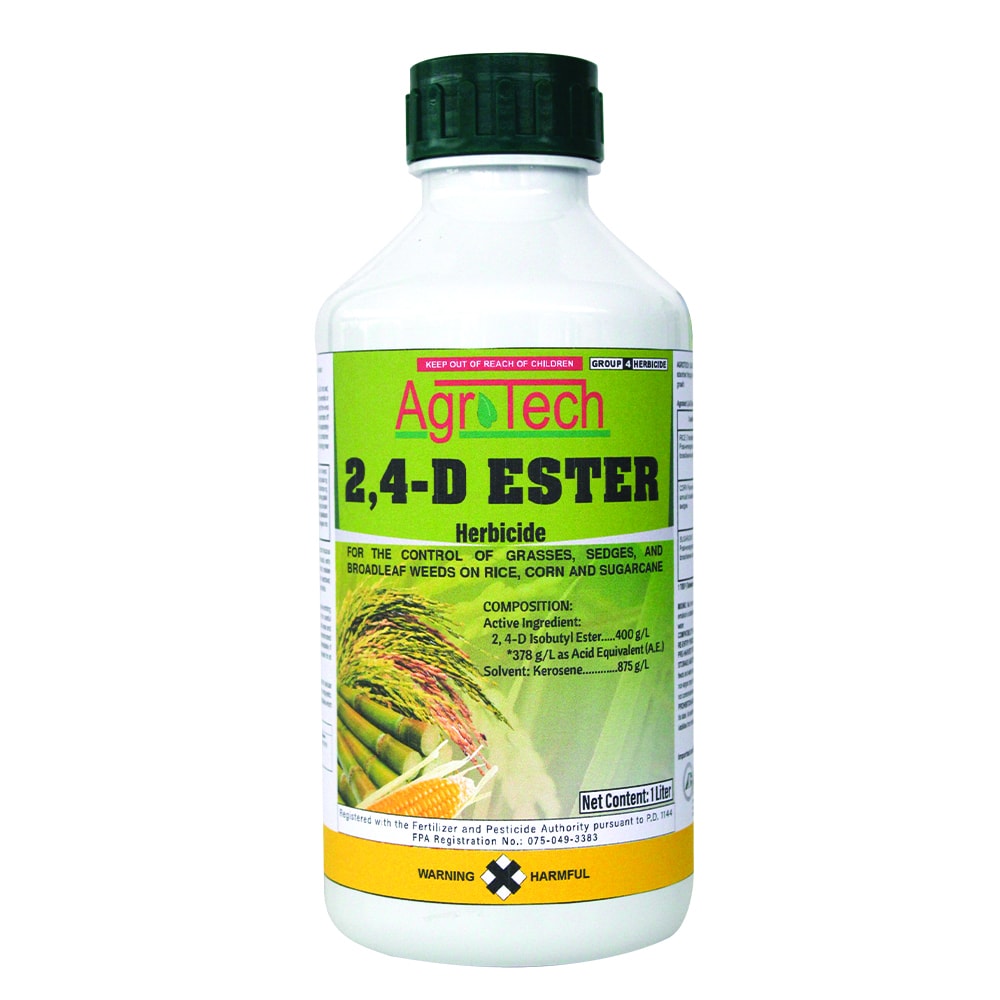 2, 4 – D ester is a popular form of herbicide that has been in use since the 40s. You can also use esters in forests, lawns, turfs, and vegetable or fruit crops. 2, 4 – D is known to stop the growth of perennial weeds and does not stop the grass from growing.
The herbicide is sold in concentrated liquids, granules, or even in the form of dust. They are safe to use, i.e., their chemical composition can be read on the label and will differ from brand to brand. For example, 2, 4 – D is the safest. If applied to the plant's cuticle, ester work faster than amines.
What is Amine?
Amines are also known as weed inhibitors or killers as the herbicide stunts the growth of the weed with broadleaf and, sometimes, even trees. Amines can be used on lawns and turf areas. In addition, you can use these chemicals in areas of sensitive crop growing. It is sold as a spraying liquid.
You can use this chemical for sensitive crop areas where other pesticides can harm and kill certain woody plants' growth without affecting the grass nearby. The business of Global amines will expand at 8% of CGR from 2021 to 2027.
2, 4-D Ester vs Amine Weed Killer: Quick Comparison Table
Specification
2, 4-D ester
2, 4-D Amine
Features

Excellent formula
Lipid soluble system
Works well in the plant cuticles
Great to control perennial, biennial, and annual broadleaf weeds
Made of esters, salts, and acids
Includes proper sunlight photolysis

Less weed controls
Perfect for all types of plants
Prevents unwanted weeds
Can be used as an aquatic weed killer
Promoted plant growth
Formulated with different salts and acids
Comes up with good germination power

Vapor pressure
High
Low
Ease of use
Comfortable
Comfortable
Effectiveness
Better
Good
Application
Easy
Easy
Volatility
High
Low
Water solubility
Average
High
Uses

Lawns
Turfs
Forests
Aquatic places
Fields

Lawns
Parks
Non-crop area
Golf fields

Maintenance
Low
Low
Suitable temperature
65 and 85 Fahrenheit
60–85 Fahrenheit
Season
 Cooler season
Hot seasons
Cost
$39.95 per gallon
$23.95 per gallon
Difference between 2,4-D Ester and Amines
There are many differences between weed killers. Here we will let you know about the differences.
Features 
If you want to know about these weed killers, you have to know about the features. So, Ester comes up with excellent formula and lipid-soluble system. Along with that, this herbicide works well in plant cuticles. Also, it is great to control perennial, biennial, and annual broadleaf weeds.
What's more? It is made of esters, salts, and acids. Besides, the weed killer includes proper sunlight photolysis.
At this point, you will know the features of Amines. Well, it has fewer weed controls. Moreover, the herbicide is perfect for all types of plants. This chemical formula can prevent unwanted weeds. Beyond that, it can be used as an aquatic weed killer. With the easy soluble texture, it can promote plant growth.
Vapor pressure
2,4 – D Esters have higher vapor pressure than amines with low vapor pressure. Vapor pressure is directly proportional to the effect of herbicides on plants.
Amines have low vapor pressure since they are soluble in water. Therefore, their effects are slow but steady
Volatility
2, 4 – D esters are more volatile and can leave burn marks on leaves only if the chemical is sprayed more than required. Esters are highly dense and concentrated.
Amines are less volatile because of low vapor pressure, which shows that Amine liquids are less concentrated than an ester. As amines are soluble in water, the volatility of amines is reduced.
Water solubility
Amines are highly soluble in water and take some time to show their effect on plants. However, you can keep a check on the roots without affecting the grass.
2, 4 – D esters are less soluble because of their high vapor pressure, and they do not mix well with water. Thus, work better when used separately.
Working power
The working power of the herbicide is different for both. Herbicides like amines and 2,4 – D esters work their magic on plants at their own pace and ability.
Amines need to be combined with water to be sprayed, whereas 2, 4 – D amines are used directly on the plants. Amines take more time to show their effect because of the addition of water. On the other hand, Ester should be applied to a plant's cuticle to see an immediate impact.
Performance 
When it comes to performance, Amine will be the winner. According to users, it is a great experience to use it on the lawns and fields.
It has high durability and safety features. Compared to this weed killer, Esters offer good performance. However, it isn't better than Amine. Still, it ensures a satisfying experience.
Season
As we have established that both of them are equally effective, we must differentiate their use according to seasons.
For example, 2, 4-D esters work excellently in cooler weather, i.e., from March to May; their volatile nature would react to high temperatures. Amines work better in hotter seasons because of less volatility and the high solubility of water.
Suitable temperature 
Knowing the perfect temperature is the most important thing you should consider. Because if you don't apply it to the perfect temperature, it can ruin your plants.
The Esters can work well in 65 and 85 Fahrenheit. On the other hand, the suitable temperature for Amine is 60 and 85 Fahrenheit.
Are there any similarities Between 2, 4-D ester, and amine?
Despite having many differences, these weed killers come up with some similarities. Let's dive into the similarities.
Ease of use
Both weed killers are comfortable to use. Alongside, you can easily use these herbicides on your lawn and fields.
Application
If you want to apply it, you should use enough safety measures. Wear gloves and eye wears even while mixing. As these weed killers contain acids, so it is better to be safe. Regardless of these, both herbicides are easy to apply.
Uses
You can use these weed killers on similar areas like lawns, turfs, fields, and aquatic places. Besides, these weed killers will work well in the areas.
Maintenance
These weed killers offer low maintenance. Thus, you don't need to worry about maintenance after applying the plant growth regulator.
Which one is better – 2, 4-D ester Vs Amine?
Esters are considered active compared to their counterpart – amines, because their effect is quicker when applied on top of the plant. Amines are water-soluble and take more time to reach the plant and work their magic.
When a plant absorbs such chemicals, it converts to active acid, which attacks unwanted parts of the plant. Esters are marvelous during cooler seasons, typically between March and May. But amines work perfectly when temperature increases as esters get volatile with rising temperatures. So it is a matter of temperature that decides how a herbicide would react.
However, warm seasons call for herbicides – amines or esters, with similar effects. Therefore, amines and esters are significant when comparing weed-controlling chemicals as they serve their functions according to season and weed pressure and apply techniques.
You can also read about the comparison between tiftuf and tifgrand Bermuda grass.
Frequently Asked Questions
Is amine similar to 2, 4 – D ester?
No, there is no similarity apart from being weed killers. Esters are more volatile than amines because of higher vapor pressures. Amines are sprayed on landscapes and areas where drifts can be a problem as the vapor pressure is less.
Can you mix amine and ester?
The question is debatable as no known company has done it yet. However, some even have a name for this combination, i.e., chaser esters. These chemicals are costlier than amines.
Is herbicide 2, 4-D an ester?
2, 4 – D is mainly known as a herbicide that can inhibit the growth of broadleaf weeds. There is an ester form of 2.4 – D, but it is toxic for aquatic beings.
Does 2, 4-D amine drift?
Yes, 2, 4 – D drifts, and you can see it if leaves start strapping or puckering. If much amine is used, stems tend to bend and twist. Drifts occur because of amine's volatility.
Final Thought
In this vast discussion of 2, 4-D ester vs amine, we can say that each chemical has a particular benefit but depends on many factors. It depends on the farm's location, weed pressure, and seasonal influence.
Herbicides have a particular technique of application that should be carefully carried out as it could harm non-weed plants. Please read the instructions and directions on the labels before using them to ensure correct application.