While choosing the best closet solution, experts suggest exploring Elfa vs California closets. The California closet has melamine composite material. It came up with the EverStyle drawer system and elaborated designs. Elfa closet comes up with epoxy-bonded steel material and a traditional drawer system. Also, it provides limited designs. 
About Elfa Closet
Elfa closet systems were launched in 1948. Arne Lydmar and his investment partners started this company in Sweden. It is one of the excellent storage solution companies. The brand is formerly known for organizing all your belongings in custom-made closets with chic shelves and drawers.
About California Closet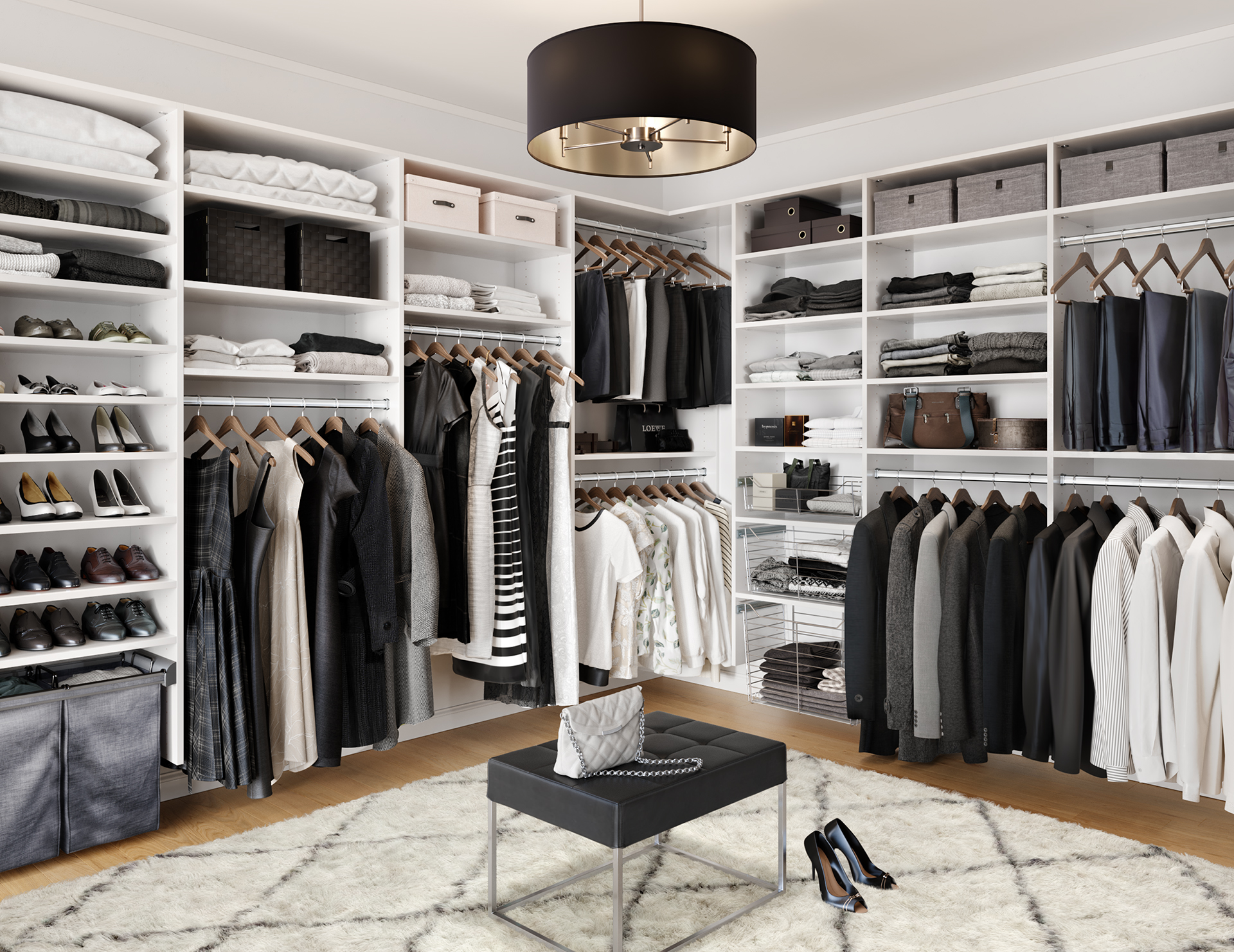 Neil Balter created this brand in 1978. He started the designer closet journey by customizing his friend's closet and named the company Woodland Hills. The California closet team follows a 4-step process to give you a personalized experience. Designs are custom-made using the finest materials exported from Europe and the USA.
Elfa Vs California Closets: Quick Comparison Table
Specification
Elfa Closets system
California Closets System
Features

Offers plug-in shelving and drawer system

Provides customization assortment options

Comes up with resetting facilities for old closets

High flexibility and airy feel

Complete storage and space mechanism

Support to find retailers in neighborhood

3D view of customized closets  

Better light and ventilation capacity

Provides Paxton and Virtuoso collections

Includes space-saving shelves and wardrobe system

Sophisticated storage styles and amplifying adjustable rack capacity 

Offers built-in lighting options

Includes organizers, dividers, trays, baskets, and adjustable bars 

Quality sourced and made with extraordinary hardware and closet door

Designed with Everstyle Drawer System

Product line

Shelves

Drawers

Clothing

Garage and storage

Laundry and cleaning

Hobby and home office

On-door storage

Custom closets

Rooms

Garage

Custom cabinet finishes

Closet organizations

Sliding closet doors

Shelving and countertops

Doors and drawers

Material

Epoxy-bonded steel

Solid wood

Laminated composite

Metal

Wood

Leather

Design
Shelves

Wire shelf

Décor shelf

Bookshelf

Hallway

Drawer Clothing

Gliding pant rack

Gliding shoe rack

Décor mirror

Walk-in top-hung closet

Reach-in closet

Freestanding closet

Garage and storage

Storing board

Accessory box

Laundry and cleaning

Worksurface

Storage track

Bedroom

Custom closets

Walk-in closets

Reach-in closets

Wardrobe closets

Kid's closets

Garage storage

Garage storage box

Garage workbenches 

Workspace

Home office storage

Craft room

Library

Living area

Family room storage

Entertainment center

Playroom storage

Mudroom storage

More rooms

Small space storage

Murphy beds

Kitchen Pantry

Laundry room cabinets

Entryway

Wine Storage

Linen cabinets and hall closets

Commercial furniture and storage

Working process

Choose design

Personalized

Crafting  

Assortative

Design Consultation

Collaboration

Custom Crafted

Installation

Follow-up

Customization options

Available

Available

Inspiration from

Daniella Witte

Lokal 54

Hemtrender

Available showrooms

30 showrooms across the U.K.

120 showrooms across U.S.,

Mexico, Canada, Puerto Rico,

and the Dominican Republic.

Franchise opportunities

Business Solutions

Sales support

Material check

Follow up

Operational support

The designer, installer, and production training

Media planning

Local and national advertisements

Sister brands

CertaPro painters

Floor Coverings International

Paul Davis restoration

Design Consultation

Paid consultation available

90-minute free consultation service

Installation 

Needs installation service

Provides installation service

Durability

Good

Excellent

Collaboration with other brands

Container Store

Martha Stewert

Sustainability

People positive

Planet Positive

Society positive

LEED projects

Eco-friendly materials

Print materials

Uses

Ventilated shelving

Décor fascia

Décor Shelves

Melamine solid shelves

Utility Shelves

Classic hanging drawers

Décor drawers

Bedroom closet

Bedroom

Garage

Living Area

Murphy bed

Workspace

Entertainment center

Wine bar

Maintenance

Handy

Handy

Certification

Commercial Grade certified

UN Global Impact

Forest Stewardship Council

California Air Resources Board

UL GREENGUARD

Leadership in Energy and Environmental Design

Warranty

10 years warranty 

Lifetime warranty

Cost

$15 to $50 for shelves 

$50 to $100 for drawers

$46 to $179 for clothing

$10 to $30 for Garage and storage

$10 to $72 for laundry and cleaning

$12 to $30 for hobby and home office

$4300 to $5000 for the whole closet

$3,000 to $7,500 for custom closets

$1200 to $2000 for rooms

$3000 for Garage

$2400 for Custom cabinet finishes

$50 to $1,080 for Closet organizations

$2,220 for Sliding closet doors

$1140 for Shelving and countertops

$250 to $700 for Doors and drawers
Differences Between Elfa and California Closets
Features 
Elfa has a resetting capacity for your old closet. You can redecorate your existing wardrobe or closet with Elfa's designer collection. It has a 3D planning tool that can help you to create customized closets with your designs. And you can check out the visual representation of your wardrobe. 
Moreover, it provides comfort with impressive ventilation capacity. This closet includes massive storage and space system that makes room for your clothes, bags, shoes, and other accessories. Elfa adds 1.7 percent of its sales in the Container Store. 
California has organizers, dividers, trays, baskets, and adjustable bars. It helps to store all stuff in one place and organizes the accessories. They also include built-in light that enhances storage functions and a bright interior.
The brand has an Everstyle drawer system that makes your storage easier. Also, this brand collaborates with Martha Stewart designs that support you to customize your wardrobe better.
Product line 
These companies come up with different product lines. Elfa offers shelves, drawers, clothing garage & storage, laundry & cleaning, hobby & home office, and on-door storage.  On the other hand, California storage company provides custom closets, rooms, garages, cabinets, closet organizations, sliding closet doors, shelving & countertops, and doors & drawers. 
Material 
Frankly, Elfa uses epoxy-bonded steel body structure and hardware. The epoxy-bonded steel is made of robust epoxy adhesive and stainless steel. However, they manufactured shelves and drawers with solid wood.  
On the contrary, the California closet has been made of a laminated composite body structure. They use melamine to manufacture closet construction. Melamine wood is an eco-friendly and robust laminated material. The California closet includes hardware, shelf liner, wood, leather, and different metal door corners. 
Design 
Elfa comes up with various designs for different purposes. You can mix any of these designs with your personalization ideas—California closets walk-in, reach-in, storage, pantry, cabinet, and kids-teen closet system.
You will find designs for your residential and commercial purposes. If I compare both brands' designs, I will go with California closets because it has more beautiful designs than Elfa. 
Working process 
California closet works in a 5-step process. It starts with a design consultation, collaboration, custom crafted, installation, and follow-up. In comparison, Elfa comes up with the working process of -choice design, personalized options, craft making, and assortation instructions. 
Installation
To be honest, these closets require professional installation because it is difficult to understand the organizer's and drawer's settlement. California closet comes up with their expert installation service. But for installing an Elfa closet, you must look for installers outside. 
Durability
Regarding durability, the California closet will be the winner because it has been made of environmentally friendly and sustainable materials. This closet will last more than 10 to 30 years. On the contrary, the Elfa closet provides average durability. Their wardrobe can last for 2 to 5 years. It depends on your usage process. 
Uses 
Elfa specializes in décor fascia, décor shelves, utility shelves, ventilated shelving, solid melamine shelves, hanging drawers, décor drawers, and walk-in closets. California closets present closets for bedrooms, garages, laundry, kitchen & pantry, home offices, wine bars, and even entertainment centers.
Warranty 
The Elfa closet provides 10 years warranty for material defects for residents and functional defects of the wheel, doors, and pull-out design. However, California closets provide a lifetime warranty. You can avail of their warranty service from their official website. 
Cost 
Elfa will cost $15 to $50 for shelves, $50 to $100 for drawers, $46 to $179 for clothing, $10 to $30 for Garage and storage, $10 to $72 for laundry and cleaning, $12 to $30 for hobby and home office, and $4300 to $5000 for the whole closet. 
California closets will charge $3,000 to $7,500 for custom closets, $1200 to $2000 for rooms, $3000 for Garage, $2400 for custom cabinet finishes. Also, you have to spend $50 to $1,080 for closet organizations, $2,220 for sliding closet doors, $1140 for shelving and countertops, and $250 to $700 for doors and drawers. This brand charge $400 – $500 as an additional cost for installation. Professional installation services take $700.
Similarities Between Elfa and California Closets
Customization options 
Two of them provide designed closets with customized drawers and racks. You can customize their designs or add your ideas to them. Moreover, you can consult their experts to make your personalized closet more precise. Elfa and California closet have massive customization options. 
Finishing type 
These closets come up with the same finishing type. They have options for smooth and textured finishing capacity. These brands offer aesthetic, traditional, and transitional finishing that matches different home decorations.
Maintenance 
One of the essential tasks for expanding the closet's lifespan is maintenance. Both closets are easy to maintain and declutter your clothes and accessories accordingly. Nevertheless, take some hangers to keep your closet more organized. You should clean your closet once a month.  
Customer complaints 
Elfa closet system 
Some shelves are too small that things can fall off frequently, and ventilated shelves aren't large enough to hold all types of accessories. 

Loud metal noise while opening and closing the drawers and closet door.

It doesn't have an attractive outlook. 

Hard to install. It is pretty troublesome to assemble all the shelves and drawers. 
California closet system 
Installation issues. The installers can't understand the instructions. 

The color contrast doesn't look good. 
Which One is Better: Elfa or California Closet?
At the end of analyzing Elfa vs California closet, I can say California closet is better than Elfa because it is made of robust and eco-friendly materials. Melamine particle boards have long-lasting ventilation capacity. These materials are easy to clean. Beyond that, they have professional installers and expert consultations. This brand has annual revenue of 9.5 million. Their versatile designs will make your room and office more attractive.
On the other hand, Elfa doesn't have fewer designs and average longevity. It is pretty tough to settle the epoxy steel material. Also, it comes up with low-quality hardware. I love the California closet's designs, materials, and high-quality storage functions. Thus, it can be a great choice for your residents and commercial sites.
You can also read: Jeld-Wen Vs Masonite Exterior Doors – A Comparative Analysis
Frequently Asked Questions
Are Elfa closets worth it?
Elfa closets are worth your money to customize the design according to your home décor. However, it won't last longer than 5 years. But it is one of the contemporary closet options.
Who owns California closets?
FirstService Brands, Inc owns California closets. It comes up with several sister brands and franchises all over the world.
What material does California closet use?
It uses laminated composites, which are produced from recycled wood, making them environmentally friendly.
Do California closets use a particular board?
California Closets uses laminated composite boards of wood fibers. These fibers are recycled and meet the regulations for carbon emissions. This brand chooses melamine material to manufacture its products.
Is California closet an excellent place to work?
Around 64 percent of employees recommend California closet as an excellent workplace in a survey conducted by anonymous employees. In addition, employees rated California closets with a 3.6 out of 5 rating on the official website.
Can I design my own Elfa closet?
You can design the closet you want by simply choosing designs from their official site in the cart and creating a complete package.
How much does a poliform closet cost?
Poliform Closets make walk-in closets that cost around $900 per linear foot. Materials used are melamine laminate, oak wood, etc.