Having trees with colorful leaves in your compound is not only aesthetically pleasing. The trees keep your surroundings cool and calm. We got you if you want to decorate your compound with such trees but have a problem deciding which one. This guide is a Fall Fiesta sugar maple vs autumn blaze maple comparison.
Why the two, you may ask. Our top pick is Fall Fiesta sugar maple and autumn blaze maple because these two trees have all the requirements to survive different weather seasons and are aesthetically pleasing. Keep on reading to find out what to expect from these trees.
About Fall Fiesta Sugar Maple
You have to love the fall fiesta sugar maple if you want to experience a different vibe during fall and summer. This tree is round, dense, glossy leather green during the summer and orange, red and vibrant during fall.
Apart from the vibrancy of this tree, it can survive adverse weather conditions and seasons and infestation of pests with proper care. The dense round nature offers a lovely shade and can shelter different types of animals.
Fall fiesta is a slow-growing tree that takes up to 30years to grow 50-75feet tall and about 40-50feet wide on maturity. After maturity, your tree will always stay dense and round. However, you should provide proper care to the tree to prevent some of the most common problems associated with fall fiesta.
Fall Fiesta Sugar Maple Problems
Like any other plant, Fiesta Falls can go through several problems such as; pest infestation, diseases, and even drought. To prevent your king of shades from dying on you, we will discuss a few types of problems that your tree might face. You will also learn some of the signs that your tree is dying.
Diseases like Anthracnose, cankers, and verticillium wilt
Diseases do not commonly infest fall fiesta. However, conditions such as verticillium wilt are terminal diseases that can kill your plant. The disease is manifested by falling and drying branches during summer. Proper mulching and watering when the tree is young are vital to prevent such infections.
Tar spot disease
Although tar spot disease is common in silver maple, fall fiesta can still suffer from this disease. Tar spot is minor compared to Verticillium Wilt. The condition is manifested by black raised dry spots on the tree's leaves. Tar spot does not kill the plant and makes the leaves look ugly. Good vigor can help prevent this disease.
 If you have a hard time identifying if your tree is dying, look for signs like;
Too much tree shedding

Bark changing color and

Leaves drying out.
About autumn blaze maple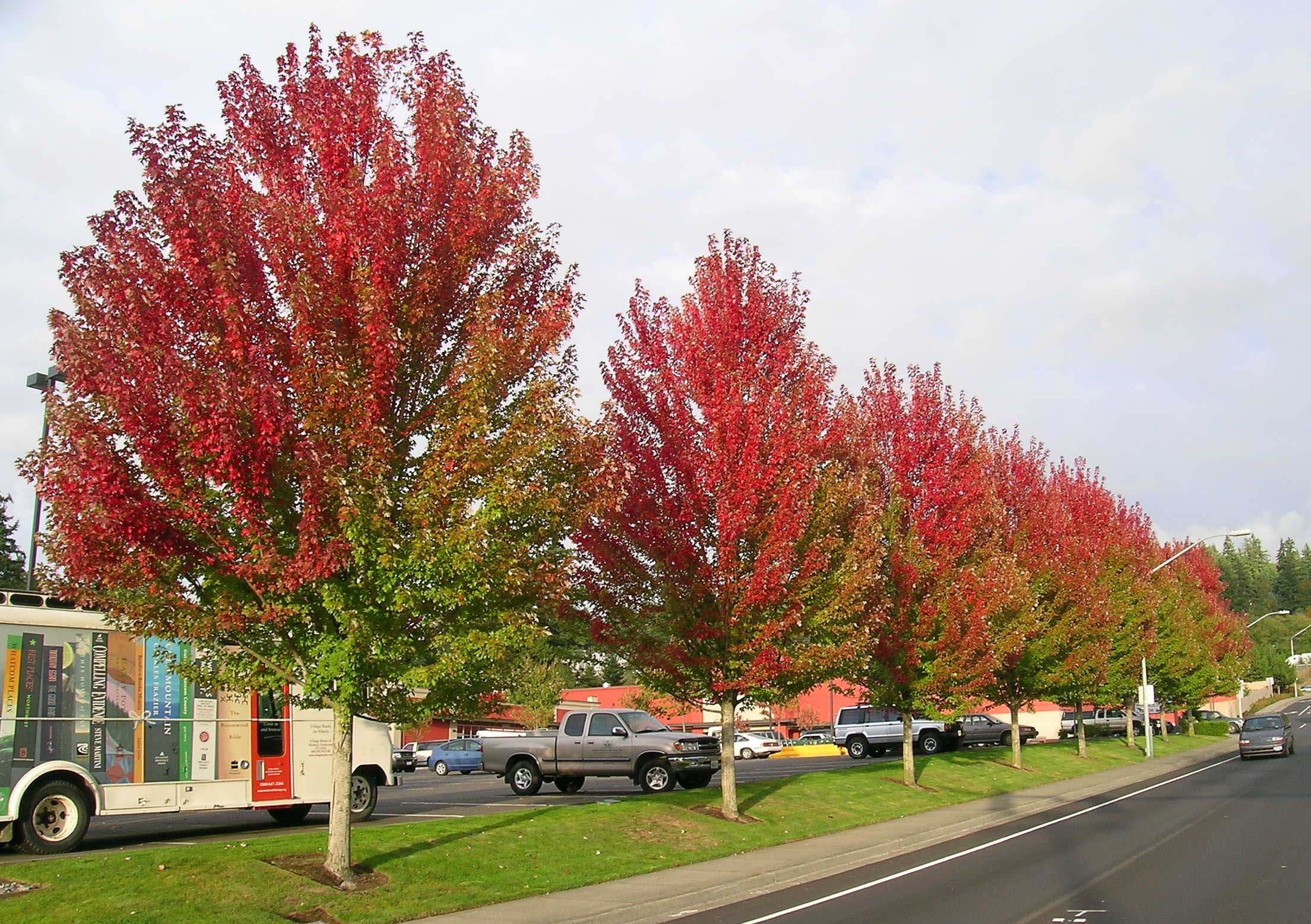 Fast-growing, beautiful leaves and an extraordinary hybrid is what autumn stands for. This tree naturally combines the beauty of its parent, Red maple and silver maple, to create one of the most beautiful trees.
A shiny orange-red color characterizes autumn blaze, and they mainly grow on the sides of the street. Blaze hybrid can grow up to 50-75feet tall and 40-50feet wide up to maturity. It is resistant to harsh weather conditions and pest infestation.
Aside from its resistance, the tree faces some problems, as discussed below.
Autumn Blaze Maple Tree Problems
Now I will discuss the autumn blaze maple tree problems to help you understand the negative sides of this tree.
Weak structures
Autumn blaze might be quite resistant to disease. However, it is a very fragile tree characterized by broken branches. To prevent such minor issues, tree owners should do proper pruning.
Diseases like chlorosis and verticillium wilt
Although not primarily affected by diseases, the autumn blaze is affected by the same conditions that affect Fall Fiesta. Proper care should be provided to the tree.
Now that you have familiarized yourself with the two trees, we will give the comparison so that you can weigh your options with ease when choosing a decorating plant for your surroundings.
Fall Fiesta Sugar Maple Vs Autumn Blaze Maple: Comparison Table
Specification
Fall Fiesta
Autumn Blaze
Type

Pure breed

Hybris
Color

Green on summer

Orange-red during summer

Orange-Red

Growth rate

Slow

Fast

Ideal soil

Acidic-Alkaline

Neutral

Space needed

Large space

Moderate space

Height

50-75feet

50-75feet

Width

40-50feet

40-50feet

Diseases

Verticillium Wilt

Anthracnose

Canker

Chlorosis

Verticillium Wilt

Anthracnose

Canker

Chlorosis
Difference Between Fall Fiesta Sugar Maple and Autumn Blaze Maple
Type and color
Fall fiesta and autumn have both beautiful colors during their different stages. For example, the fall fiesta is shiny green during summer and orange-red during fall. On the other hand, the autumn blaze is orange-red throughout.
Autumn blazes are created by cultivation when Red maple crosses with Silver maple. In comparison, Fall Fiesta is a pure breed.
Soil type, space needed
These two trees are alike but require different conditions to grow to maturity. Although the fall fiesta is round and dense, it does not do well in confined spaces or next to the road. Alkaline and acidic soil favors the maturity of fall fiesta.
Autumn blaze being a mixed breed, does not need a lot of conditions to grow. It grows on the side of the road on average soil and in confined areas.
Growth rate
Fall fiesta takes up to 10years to grow to maturity. At the same time, the autumn blaze takes only two years to rise to the same width and height as the fall fiesta.
You may also be interested to learn about the differences among douglas fir vs noble fir vs fraser fir.
What are the Similarities between Fall Fiesta Sugar Maple and Autumn Blaze maple?
Height and width
Although the maturity rate of the two trees is quite different, they both are 50-75feet tall and 40 feet in width when mature. The only difference is that the autumn blaze has a weak structure.
Diseases
Fall Fiesta and autumn blaze are both maple trees. They are likely to face the same problems. Some of the most common diseases that attack both trees are mentioned in the table above.
Which one is better, Fall Fiesta Sugar Maple or Autumn Blaze Maple?
Both trees are unique in their unique way. They both provide an appealing atmosphere and fulfill the same purpose. Both trees are infected by the same diseases and attract the same pests.
So, when choosing the best tree, some factors like growth rate will play a huge role. If you want a fast-growing tree, autumn blaze should be your option. However, if you are interested in nurturing a tree for a long, you might enjoy taking care of Fall Fiesta.
You can also read: Celebration Maple Vs Autumn Blaze – A Comparative Analysis
Frequently Asked Questions
Is fall Fiesta a sugar maple?
Fall fiesta is a Bailey's Nursery Cultivator. Fall fiesta and sugar maple are similar, although fall fiesta is symmetrical and its leaves are dense, preventing the sun from scorching the leaves. Fall fiesta is orange-red color during the fall. In contrast, sugar maple seems to be multicolored.
Is Autumn Blaze a sugar maple?
No. One of Autumn Blaze's parent silver maple scientific names is Acer saccharinum is somehow similar to sugar maple name Acer saccharin. However, they are different. Sugar maple is also a pure breed, while Autumn Blaze is a hybrid.
How fast do fall Fiesta sugar maples grow?
Fall fiesta might be considered a slow-growing tree, but it's pretty vigorous. Considering its life expectancy is 150 years and grows 2feet and year and might take up to 30 years to reach full maturity at about 50-75feet. We can say it how's faster for a variety.
Is Autumn Blaze Maple a good tree?
People are searching for trees that are fast-growing and provide the required ambiance. Autumn blaze has a fast growth rate and is colorful during any season. The only issue is its weak structure.
Do sugar maples turn red in the fall?
Sugar maple leaves' color varies during fall. When in the shade, the leaves turn bright yellow and orange-red when exposed to the sun. However, they are described as orange-red.
Is Autumn Blaze Maple the same as red maple?
The two trees may look the same but are not the same. Red maple is a variety meaning it happens to grow naturally. Autumn Maple is a cultivator, which means it was created by cultivation. Autumn Maple is a hybrid of red maple and silver maple.
What does the fall Fiesta Sugar Maple look like?
Fall fiesta is a dense round tree with vibrant red-orange leaves in fall. During fall, leaves usually are shed, creating an orange carpet look that is pleasing.
How tall does a fall fiesta sugar maple grow?
Depending on several things like soil type and the type of care given to the tree, fall fiesta can grow to a height of 50-75 feet. These trees take up to 30 years to mature and have a life expectancy of 150years.
Final Thoughts
As discussed in the fall fiesta sugar maple vs autumn blaze maple guide above, diseases like Verticillium Wilt are common in maple plants. It would help if you started proper care when the plants are young.
These maple trees do not require the same conditions to grow. Therefore, you should ensure you have done proper research on taking care of the two trees. Pruning, vigor, and watering are routine care given to maple trees.