Windows and doors are the two crucial things for home improvements. They provide expanded visibility, enhanced protection, and proper ventilation for the house. But choosing windows and doors from a reliable brand is necessary. That's why we decided to compare Feldco vs Pella.
Windows and doors from Feldco are only suitable for household purposes, whereas Pella is ideal for residential and commercial purposes. Apart from the four regular common frame materials between both brands, Feldco offers Aluminum materials. 
About Feldco
Feldco was established in 1976and founded by Chief Doug Cook. The company offers various solutions for home improvements: windows, siding, doors, and roofing. Currently, the total number of employees working for this brand is 300, including all sites.
According to Datanyze, the company generated $61.7 Million of revenue last year. Its headquarter is located in Chicago, Illinois, United States. The brand has been awarded window and Door Magazine's Dealer of the Year three times.
About Pella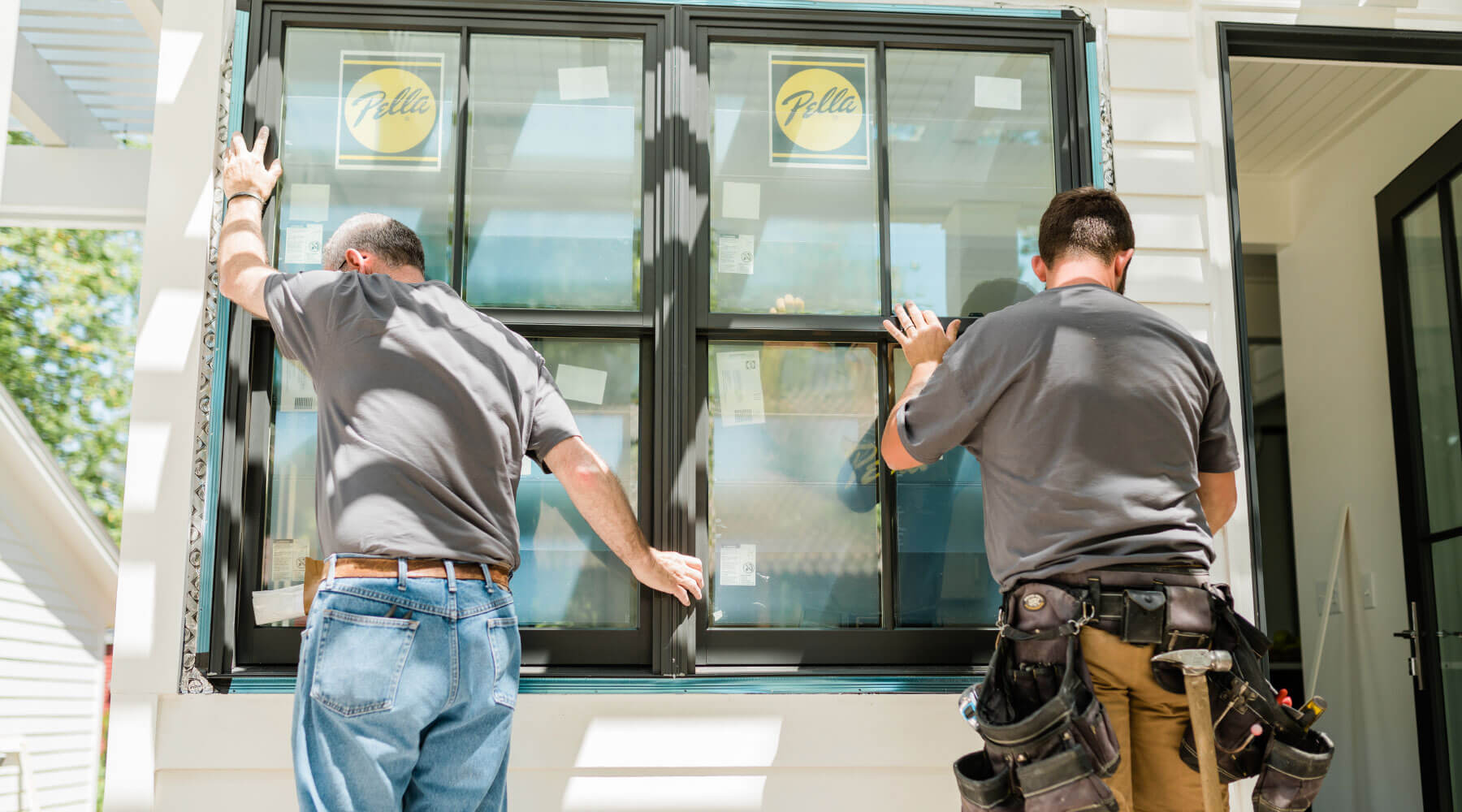 Pella is a renowned brand founded in 1925 by Peter Kuyper. Currently, more than 8,000 people are working for this company. According to pressroom.pella.com, it has 18 manufacturing sites and 200 showrooms in the United States.
As per DNB, the annual sale of this giant company is $2.03 billion. Its headquarter is located in Pella, Iowa, United States. The brand is well-known for making top-of-the-line windows and doors from various materials, including wood, fiberglass, and vinyl.
Feldco Vs Pella: Quick Comparison Table
Specifications
Feldco
Pella

Products Varieties

Windows

Siding

Doors

Roofing

Window Types

Double Hung

Casement  

Slider  

Awning 

Picture   Bay 

Bow

Garden 

Specialty

Casement  

Awning  

Double-Hung

Single-Hung

Sliding Window

Picture  

Bay and Bow 

Custom  

Specialty   

Stock Inventory Windows   

Door Types

Entry Doors

Patio Doors

Storm Doors

Garage Doors

Patio Doors

Front Doors

Storm Doors

Materials used

Wood

Aluminum

Fiberglass

Steel

Vinyl

Wood.

Fiberglass.

Steel

Vinyl

Using Purposes

Only for household purposes

Both residential and commercial purposes

Product Series

Limited numbers of product series

Vast numbers of product series

Customer Service

Average

Excellent

Product Cost

Doors: $600 to $800

Windows: $300 to $700

Doors: $1,100 to $3,400

Windows: $450 to $1,199

Warranty

lifetime product warranty

a five-year labor warranty

Limited lifetime warranty

Durability

20 to 40 years

20 to 50+ years
Differences Between Feldco and Pella
When choosing a particular brand, you must know what valuable products it offers. Here are in-depth differences between Feldco and Pella to learn all the essential things about them.
Products Varieties
What type of products do you want to buy from a specific brand? When you prefer to buy everything from a single brand, make sure it offers what you want. Feldco mainly offers four types of products: windows, doors, siding, and roofing. Each product has several subcategories.
On the other hand, the Pella brand has two categories of products: windows and doors. However, the brand offers dozens of subcategories' products.
Window Types
Which type of window do you like to install? Since our home structure and design vary, we need different types of windows for our houses.
Feldco mainly offers eight types of windows, including double-hung, casement slider, awning, picture bay, bow, garden, and specialty. Each door has a special purpose. For example, slider windows have a higher wide dimension than their tallness. They are energy-efficient and require low maintenance.
In contrast, Pella windows are available in 10 options: casement, awning, double-hung, single-hung, sliding window, picture, bay and bow, custom, specialty, and stock inventory windows. These huge window varieties allow people to choose a particular option easily. For instance, casement windows are the best if you want various glazing options and increased security.
Door Types
Compared to window types, most brands offer a limited number of door options. Feldco brand mainly provides four types of doors: entry doors, patio doors, storm doors, and garage doors.
Contrastly, the Pella brand has only three types of doors: front doors, patio doors, and storm doors. They don't sell any garage doors. Compared to other doors, the size of a garage door is massive to accommodate automobiles and other vehicles inside the garage. It's standard size is 8 to 9 feet wide and 7 to 8 feet high.
Materials Used
Learning what material is used to make a particular product is crucial. Generally, high-end products are made of superior materials to ensure excellent durability. Feldco uses various stuff to make their products, such as wood, aluminum, fiberglass, steel, and vinyl. Apart from single-based materials, they make a product with several materials.
On the contrary, Pella makes their windows and doors from wood, fiberglass, steel, and vinyl. They don't use any aluminum materials. But each material has dozens of varieties.
Using Purposes
Why do you want to use Feldco or Pella brand? Feldco only offers residential-purpose products. But if you contact them directly, they can office-based doors and windows.
On the contrary, the Pella brand sells both residential and professional products. People can easily choose them from their site. They have a separate section for commercial products. 
Product Series
Product series mainly means more updated products. Since Feldco is a small company, it offers a limited number of product series. Feldco Sophia Series is one of the most popular product lines. However, a few other options are available.
In contrast, Pella has huge product series collections, such as Pella Defender Series, Pella 250 Series, Pella Lifestyle Series, Architect Series, Pella Defender Series, etc.
Customer Service
Customer service is an important aspect when choosing a particular brand. Compared to Feldco, Pella provides more satisfactory client service. Since Pella is a huge company, it has a large number of employees available to solve customers' problems and provide free consultations.
But, Feldco doesn't have top-rated customer service. Many customers complained that they didn't get on-time feedback from their staff even after contacting them several times. 
Product Cost
It is not easy to overlook the importance of cost since it covers a good amount of the budget. Compared to Pella, Feldco offers more affordable options. For instance, you need to spend around $300 to $700 to buy a window and $600 to $800 to purchase a door from Feldco. The overall cost depends on quality, materials, and model.
In contrast, the average price of a Pella window can be anywhere from $450 to $1,199. And spending around $1,100 to $3,400 will be necessary to get the Pella door. So, why so a price difference for Pella products? Generally, manufacturing uses low-end and high-end products to fulfill the demand of a particular class of people.  
Warranty
Feldco offers a lifetime product warranty and a five-year labor warranty. However, breaching the warranty condition will make it void. Likewise, Pella also provides a Limited lifetime warranty for all their products. But fulfilling all the warranty conditions is mandatory to claim it afterward. 
Durability
Generally, Feldco products can last 20 to 40 years, depending upon product material, installation approach, and external factors. Contrastly, Pella windows and doors have 20 to 50+ years of durability. High-end products are highly durable to last better than typical ones.
You can also know more about the differences between pella impervia and marvin infinity.
What Are The Similarities Between Feldco And Pella?
Though Feldco and Pella have a lot of differences, they have a few similarities too. Here are a few of them:
USA-based Company
Both Feldco and Pella are USA-based companies, so they generally follow the USA standard to make their products.
Similar Product Types
Many standard products are available in both Feldco and Pella. For instance, both brands offer patio and front doors. Also, they make products from many similar materials.
Customizing Options
Apart from regular-sized doors and windows, Feldco and Pella offer customizable options when your door or window size is too large or small than the regular.
Which One Is Better: Feldco Or Pella?
If you want a considerable number of product varieties and premium-quality products, Pella is a reliable choice. They make top-of-the-line products. On the contrary, when you want affordable doors and windows with limited varieties, Feldco appears to be a better option.
You can also read: Feldco Vs Gilkey Windows – A Comparative Analysis
Frequently Asked Questions
Who owns Feldco?
Chief Doug Cook is the owner of the Feldco brand. He established the company in 1976.
How much should I spend on Windows?
A window can be anywhere from $200 to $1,800 depending on its body and frame material, installation approach, etc.
Are Feldco Windows Any Good?
Feldco makes good-quality windows at a competitive price. Though they are not as durable as many high-end windows, they are still good enough to last several decades.
Is Pella a good brand?
Pella is one of the most dominant brands in the USA market for making exceptional quality windows and doors.
Final Thought
So, you have already got a clear idea of Feldco vs Pella. Each brand has its own bad and good sides. You must determine which good sides you prefer more and overlook the drawbacks.
Pella appears to be the right option if you have a premium budget. Otherwise, you can choose Feldco for inexpensive and versatile products.