Hayfield windows vs Andersen windows will give you direction toward the key differences. Andersen windows have Heat Lock technology which protects them during cold seasons. It allows the sun`s heat to enter the house. It also has Low E4 Passive Sun to protect during hot seasons. They offer insulations against harmful UV rays. On the other hand, Hayfield has Better Vue with water taction to provide insulation against insects, sound, and extreme temperatures.
Are you tired of using a lot of money to reduce energy costs in your house and want zero net windows and doors? Research shows that 20% of energy consumption comes from a residential home, according to data compiled by the U.S. Department of Energy. That can cost more than $2000 on energy bills per year. Isn`t that costly?
About Hayfield Windows
It was founded in 1951 as an aluminum storm window and door fabricator. 19 years later, it became a green company. They started practicing reduce, reuse, and recycle philosophy. They conserve by recycling all the materials used in manufacturing.
In 1985, Hayfield window and door expanded its production by including wood interior windows used in residential and commercial projects. Also, they added casement, double-hung, and patio doors to their products.
Additionally, Hayfield windows and doors introduced vinyl in 1993 to their product inventory. Last but not least, it introduced innovative heritage series, giving customers endless finish options. They are vinyl windows, stainable, and replicate the look and feel of a wood window.
About Andersen Windows
Andersen Corporation has stayed in the market since 1903, manufacturing windows and doors. It is the largest manufacturer of windows and doors in North America. The company was founded by Hans Jacob Andersen and his family in Hudson, Wisconsin.
Since then, it has grown in stages and innovation. Therefore, due to several products, there was a need to have a branch that only deals with windows and doors. So, in 1995 Renewal by Andersen was developed. Most importantly, Andersen invested in Ubiquitous Energy, which deals with photovoltaic technology. The bottom line was to manufacture energy-efficient windows and doors.
Hayfield Windows Vs Andersen Windows: Quick Comparison Table
Specifications
Hayfield windows
Andersen windows
Features

Double pane
Single pane
Triple pane
Integrated nailing fin
3 1/4" frame
Sill noise
Brickmold
Beautiful internal grids
Simulated divided lites

Contemporary design
Sleek interiors
Modern hardware
50 exterior colors
Anodized finishes
Beautiful interior stains
Striking combinations
Rigorously tested
The seamless rigid vinyl exterior cover
High-performance glass option
The smooth control hardware system
Single actuation casement lock

Glass option

BetterVue screens
ClimaGuard 72/57
Argon & Krypton coating
Tempered

Low E4
Low E4 Heatlock
Low E4 Sunglass
Low E4 SmartSun glass
Low E4 SmartSun Heatlock
Tempered
Passive low E

Technology & Engineering

Stainable vinyl
Jambs kit
Multi-chambered insulation
Matching your architecture
Spill-proof window sills
Woodgrain vinyl

Stormwatch
VeriLock sensors
Perma Shield
Open/closed sensors
HeatLock

Product line
Doors

Patio
French & hinge
Storm
Gliding

Windows

Awning
Bay
Bow
Casement
Double-hung
Single-hung
Specialty
Picture
Pass-through
Gliding

Doors

Patio doors
French
Gliding

Windows

Awning
Bay
Bow
Casement
Double-hung
Single-hung
Specialty
Picture
Gliding
Hopper
Fixed

Sound Insulation
Perfect
Perfect
Certification
Durability
20-25 years
20-25 years
Design & Materials

Vinyl
Wood
Fibrex
Aluminum
Fiberglass

Design option

Different interior and exterior colors
Fusion welded doors
Integral nailing fin
Adjustable, self-aligning, ball-bearing rollers
Operating sash

Other interior and exterior colors
Custom design
Retractable screen doors

Maintenance
Low
Low
Installation
Easy
Easy
Warranty
Limited lifetime
20 years
Price

$120 to $1200 for windows
$800 to $7000 for doors

$680 to $2500 for windows
$1000 to $8000 for doors
Difference Between Hayfield Windows and Andersen windows
Features
Hayfield windows have argon and krypton coating in their windows. These coatings protect you from harmful UV rays. Also, they minimize energy loss. Besides, the brand has fusion welded doors which gives it firmness and longevity. It also provides extra security from forced entries and hurricane debris.
Apart from that, Andersen windows have a seamless rigid vinyl exterior that protects the window frame from warping and wading off. It also provides longevity and durability. They also come with high-performance glass options that minimize harmful UV rays from entering your room. It also conserves energy and minimizes dependency on ventilators.
Technology and Engineering
To begin with, Hayfield windows and doors have stainable vinyl, making it easy to produce vinyl wood-grain windows and doors. After that, it can then be stained to match any décor without the maintenance of wood. Let`s look at another example, Hayfield windows and doors have jamb kits. This ensures that the installed casing fits your specific wall. It provides you with a hassle-free way of fitting doors and windows.
Hayfield provides an optional built-in brick mold matching your architecture to retain your home`s architectural charm. All brickmoulds have snap-on covers for easy installation. Here is the kicker, Hayfield has multi-chamber insulation, which provides you with heat insulation and harmful UV rays.
Also, they reduce air infiltration in your home. With multi-chamber insulation, you are confident that no air will leak through will escape through the openings. Therefore, saving your energy bills. Also, this innovation is meant to provide energy efficiency and make you not depend on ventilation.
On the other hand, Andersen windows and doors have security sensors. They are Verilock sensors. They are designed to detect on and off options. You can also close and open the doors and windows with ease. Also, you can integrate glass breakage independently. So, in this case, you can know if the glass has broken. You can check if you are in a hurry to catch a plane, train, or bus and are unsure if you close the windows.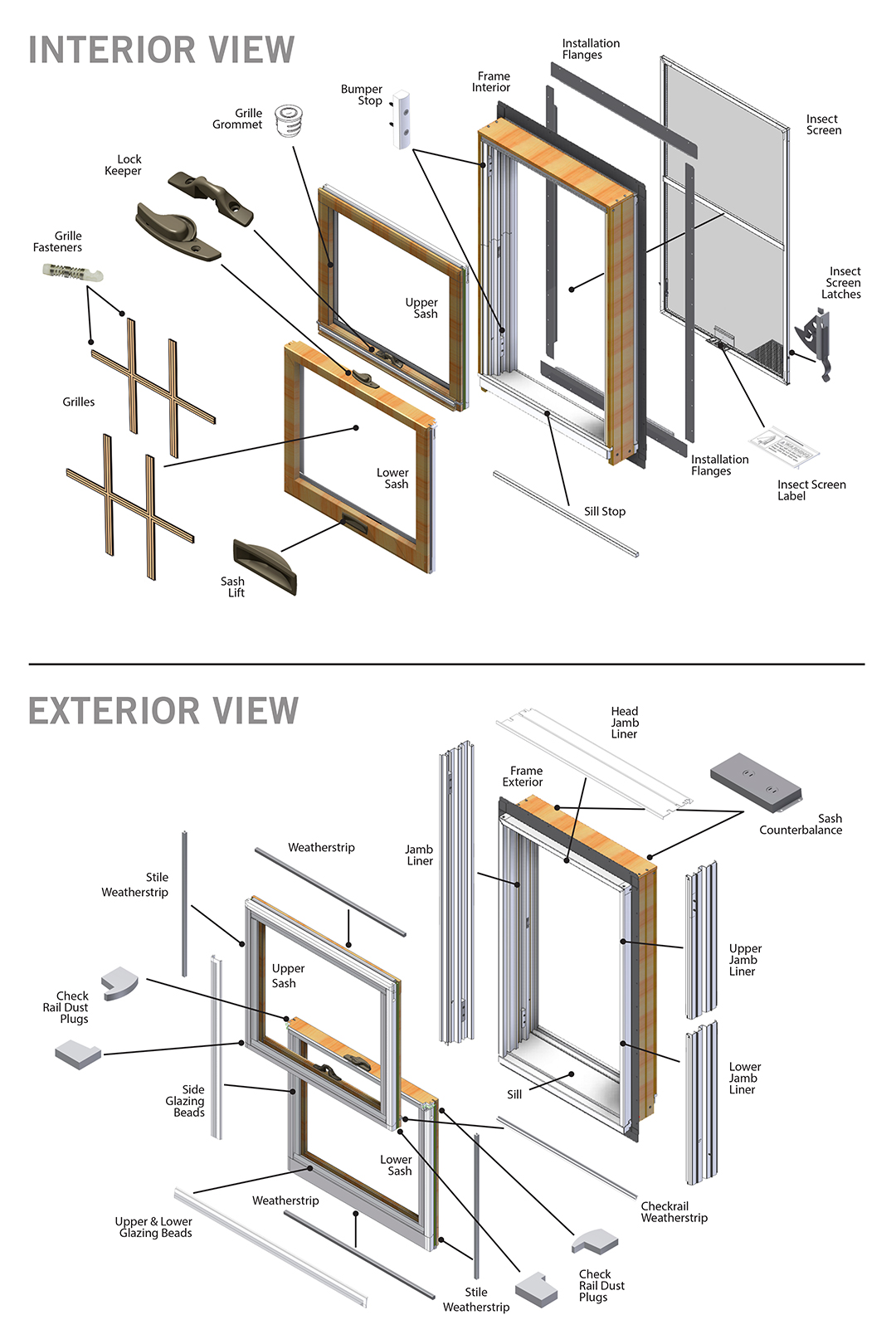 Additionally, the doors have Perma Shield, which provides sturdiness and longevity. It makes your windows withstand harsh weather conditions or hurricanes. Lastly, it incorporated HeatLock technology which reflects the heat inside the house. During summer, this technology is perfect to use.
Glass option
Hayfield windows and doors have BetterVue screens with water shade technology. This technology gives better visibility, airflow, and insect protection. Besides, it has ClimaGuard 72/57 glass. It has incorporated the passive solar heat concept to provide powerful insulation against the winter cold while selectively letting warm sunshine into the home. This technology is perfect during the winter seasons.
Lastly, Hayfield has tempered glass, which protects against extreme temperatures. The glass is heated at 1 148° F for Energy efficiency. The glass is then subjected to cold temperatures by cooling it. This makes it sturdy and able to withstand extreme cold or hot weather.
Far from that, Andersen has low E4 glass, which is 45% efficient during winter and 57% efficient during summer. Additionally, it has low E4 SmartSun glass, which provides you with the benefits of low E4 glass. Plus, it helps you to prevent 95% of harmful UV rays.
On top of that, it has low E4sun glass tinted for maximum protection against intense sunlight. Lastly, it has low E passive sunglass suitable for colder climates. These seasons allow a higher amount of sun`s heat to pass into the house compared to low E4. Therefore, making it ideal for passive solar applications.
Design and Materials
Hayfield manufactures its products with high quality and performance. They are of rigid vinyl extrusions and first-grade exterior materials. That is why they are Energy Star, AAMA, and NFRC certified. Also, the brand uses Poly Vinyl Chloride (PVC) extrusions with the highest grades of ultraviolet treatment available on the market.
They do not chip, pip, corrode, or blister and are not affected by salt. They ensure that the real wood on the interior surfaces will not delaminate. On the other side, Andersen offers wood composite materials called fibrex, vinyl, aluminum, and fiberglass. Therefore, making it competitive in the market.
Design options
Hayfield widows have fusion welded doors with built-in steel to provide durability and longevity. Also, Hayfield has an integral nailing fin on the outer edge of the frame to offer secure installations and a better weather seal. Additionally, it has integral interlocking weather rails for resisting drafts and weather penetration. Lastly, Hayfield comes with adjustable, self-aligning, ball-bearing rollers that assure quiet and easy operation.
While Andersen has a variety of colors for both interior and exterior, it also has a retractable screen door to help you enjoy the fresh air at any time. Additionally, Andersen doors and windows have a custom design that is made to fit precisely and has excellent performance.
Certification
Hayfield windows and doors are Energy Star, AAMA, and NFRC certified because of their quality products and high performance. It meets all required requirements, like air infiltration, R-value, U-factor, and SHC ratings. Other than that, Andersen windows and doors are Energy Star with fair rating SHC, R-value, and air infiltration.
Warranty
Hayfield windows give its customers a limited lifetime warranty. At the same time, Andersen windows provide a 20-year transferable warranty. In this case, Hayfield has the best warranty compared to Andersen windows. It is clear and covers a wide range of products well.
Price
Most people decide to buy a product depending on the price. If it favors them, they will, but if not, they will forgo it. Therefore, Hayfield sells its windows for $120 to $1200 and its doors for $800 to $7000. And Andersen is $680 to $1200 for windows and $ 1000 to $8000 for doors. So, Hayfield has slightly lower prices, which are pocket friendly.
You may also be interested to learn about the differences between window nation and thompson creek.
Similarities Between Hayfield Windows and Andersen Windows
Durability
Both Hayfield windows and Andersen windows have a lifespan of 20 to 25 years. Both of them use vinyl as their core material.
Maintenance
Both Hayfield windows and Andersen windows are low to maintain. You do not need to use money or hire an expert. It takes a few seconds to put them in good condition. Fortunately, they are durable and long-lasting.
Installation
Unless you follow instructions well, installation of windows and doors is easy. But if you are a beginner, you may need a specialist.
Sound Insulation
The windows and doors of both brands have been designed to provide perfect sound insulation. Living in noisy places or on highways is a nuisance. And sometimes you need privacy and quiet in the house. So, the only way is to buy windows and doors with sound insulation.
Product line
Both Hayfield windows and Andersen have the same sizes and shapes of windows and doors. You can check what I have listed in table 1 above.
Quick Ratings of Hayfield Windows and Andersen Windows
| | | |
| --- | --- | --- |
| Specifications | Hayfield windows | Andersen windows |
| Features | 3/5 | 5/5 (Winner) |
| Glass option | 3/5 | 5/5 (Winner) |
| Technology & Engineering | 5/5 (Winner) | 4.5/5 |
| Product line | 5/5 | 5/5 |
| Sound Insulation | 5/5 | 5/5 |
| Certification | 5/5 (Winner) | 4/5 |
| Durability | 5/5 | 5/5 |
| Design & Materials | 2/5 | 5/5 (Winner) |
| Design option | 5/5 | 5/5 |
| Maintenance | 5/5 | 5/5 |
| Installation | 5/5 | 5/5 |
| Warranty | 5/5 (Winner) | 4/5 |
| Price | 4.5/5 | 5/5 (Winner) |
| Test Result | Runner up 🏃 | Champion 🏆 |
Which One is Better: Hayfield Windows or Andersen Windows?
Personally, I will take Andersen windows as the best because of its innovations and engineering. First, the Low E4 PassiveSun and Low E4 glass makes it ideal for any weather. Also, the Perma Shield for patio doors and heat lock is a game changer here. Hayfield windows are not of high quality and to the standards of Andersen. They easily break and do not last long.
You can also read: Wallside Windows Vs Pella – 10 Key Factors Compared
Frequently Asked Questions
What windows are comparable to Andersen?
Pella and Andersen manufacture high-quality, durable, and craftmanship windows and doors in the market.
How long do Andersen windows last?
Their lifespan goes from 20 to 26 years. This is because they are made from vinyl materials.
Is Hayfield windows still in business?
Yes, it is still open since 1951 till now. It is based in Minnesota
Who owns Hayfield windows and doors?
Drum Capital acquired it on 5th August 2019.
Final Thought
Finally, from the Hayfield windows vs Andersen windows discussion, I can clearly say that Andersen is the best brand with high-quality and durable windows. They are made with craftsmanship in mind. If you have not tested this quality, take a step today and give it a trial. Bingo!