The exterior door is a doorway that allows entrance or exit from your house. That's why it's super important that you get the exterior door right, an option that'll provide both safety, practicality, and a stylish look for your home. Though many manufacturers are available with exterior doors, people often seem confused between Jeld-wen vs Masonite exterior doors, two of the most popular brands on the market.
So today, I'll discuss the Jeld-Wen and Masonite exterior doors with all the key differences and similarities. After this, it'll be a lot easier for you to decide. So, without wasting any time, let's start.
What is Jeld-Wen exterior door?
Jeld-Wen has been a popular name in the home décor industry, with high-quality windows, wall systems, closet systems, and pots of different other products under its belt. However, one hidden gem of Jeld-Wen is their exterior door.
This manufacturer has always been famous for its innovative style and constant effort to improve its products with each launch. Since its foundation in 1969, Jel-wen has continued that effort till now.
If you are after a vast collection of designs that allows you to install interior doors according to your house and budget, Jeld-Wen doors are waiting for you out there to be purchased.
What is Masonite exterior door?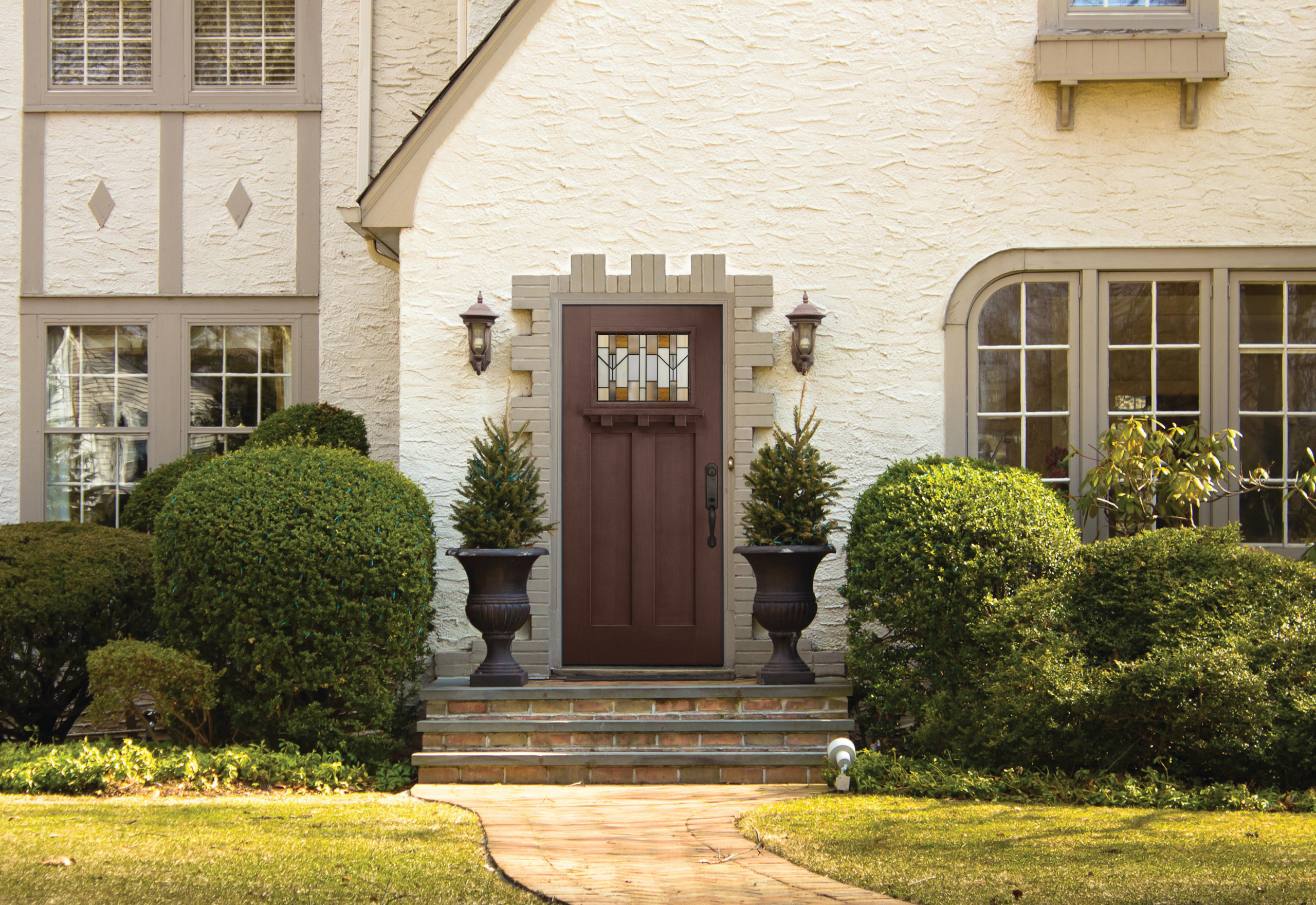 Masonite is another key player in the door industry. Apart from the regular features that make an exterior door great, Masonite has focused on some unique factors that separate them from other brands.
For example, Masonite has worked briefly on their doors' sound transmission and energy efficiency. These two aspects might sound simple, but they are crucial to any excellent exterior door. So, you get utmost privacy and warmth containment by this door.
Masonite has been putting all their research into developing the door technology as a manufacturer of doors exclusively. If you decide to give Masonite doors a chance, you'll notice just how polished and high-performance the exterior doors are.
Jeld-Wen vs Masonite exterior doors: Comparison Table
Before we head into the differences, let's have a quick look at this comparison table. Going forward, it'll be easier for you to understand these differences in detail. Also, if you are ae in a rush, this table will give you a general idea.
| | | |
| --- | --- | --- |
| Specification | Jeld-Wen Exterior Doors | Masonite Exterior Doors |
| Material | Wood, fiberglass, and steel | Wood, fiberglass, steel, and composite |
| Versatility | Massive collection | Limited collection |
| Weather Protection | Yes | Yes |
| Warranty | 5 to 10 years, depending on the lineup | 1 to 10 years, depending on the lineup |
| Energy Efficiency | Energy Satr rated | Energy Star rated |
| Cost | Wide variety of prices | More on the premium side |
Difference Between Jeld-Wen and Masonite Exterior Doors
Now that you have a primary idea about the differences let's move on to the detailed discussion. In this segment, I discussed various aspects of these doors to determine which will be the suitable choice for you. After reading this, you should easily decide on a door according to your priority.
Material
Both doors have given a tough fight for the win on the material's side. All the common materials out there used for exterior doors, such as steel, wood, or fiberglass, are available by both Jeld-Wen and Masonite.
So, in terms of durability, both brands have you covered. All you have to do is just pick a door according to your choice. However, Masonite seems to have a bit of an upper hand since it also offers composite doors made of different materials like timber, plastic, or laminate.
Design and aesthetic
Both Jeld-Wen and Masonite have reputations in the design and aesthetic sectors. That's one of the key reasons why these brands are so popular in the market. No matter which brand you choose, it should suffice your need for style and protection.
However, If I have to nitpick here, then Jeld-Wen will definitely get my vote here. There are quite a few product lines of doors with hundreds of designs and colors to choose from. Masonite is pretty limited in the design sector due to the lack of various models.
Versatility
Versatility can be a deciding factor for many people, especially when it comes to picking an exterior door that suits your need. In that regard, Jeld-Wen again seems to have the lead offering assorted styles.
On the Jeld-Wen website, you'll find over 700 models available made of different materials with different looks. You can check out their product lineup by clicking here. On the other hand, Masonite's collection is limited, with under 300 options on their website. So, if you are looking for versatility, you should check out Jeld-Wens doors.
Warranty
Since the exterior doors aren't something cheap, the warranty is a key consideration to safeguard your investment. In case of any unforeseeable damage or malfunction, the warranty will take care of the door.
So, in terms of the warranty period, Lel Wen again has the lead. Depending on the product lineup, Jeld-Wen provides a warranty starting from 5 years to 10 years. On the other hand, Masonite's warranty lasts only for 2 to 5 years.
Price
Not everyone has the budget to spend lavishly on the exterior door, so the price difference is important. Also, different buyers want a lot of options, no matter the price.
So, if I have to pick a door at the lowest price, Masonite has some decent options. On the other hand, if you have thousands of dollars to spend, Jeld-Wen has more offerings for you in the premium price segment.
As for the mid-budget, both brands offer almost the same options and quality.
You may also like to read about the differences between emco and larson storm doors.
What are the Similarities Between Jeld-Wen and Masonite exterior doors?
After the differences, let's have a look at the similarities both brands share. These are the features that made these brand's doors so popular.
Both Jeld-Wen Masonite exterior doors are unmatched in today's market in terms of raw quality and build.

Energy efficiency is an essential feature for exterior doors since it keeps the inside warm and has low electricity bills. In that regard, both brands come with an Energy Star rating.

Both Jeld-Wen and Masonite are based in the US.

There is a wide price range for both brands' doors, so everyone has something.
Which one is better, Jeld-Wen or Masonite exterior doors?
As you can see, both brands have shared the same high quality and build; you won't go wrong with any of these doors. But as you can see, there are still some differences depending on what you are looking for.
If you want a massive collection to choose from, then Jen Weld is the way to go. Also, if we consider the warranty period, Jeld-Wen's offers a warranty period of a minimum of five years up to ten years, depending on the lineup. On the contrary, Masonite has a shorter two to five years warranty period. Considering these factors, Jeld Wen exterior doors can be better than Masonite.
You can also read: Andersen 10 Series vs 4000 Series Storm Door
Frequently Asked Questions
Is Masonite a good door brand?
Masonite has been a key player in the door industry for almost a century. Its exterior doors have lots of excellent features, making it one of the best door brands on the market. The features include excellent durability, a vast collection of unique designs and aesthetics, weather protection, and, lastly, safety. Combined, all these features make Masonite exterior doors a great buy in today's market.
Are Jeld-Wen and Masonite doors the same?
Answering this question can be a little tricky as you have seen both brands share similarities and dissimilarities. Though there are differences in material, look, and installation, models from both brands, look almost identical and perform the same.
Are Masonite doors made in Canada?
Though Masonite is a US-based brand, it has operations in eight different countries, including Canada. Masonite's headquarter, as well as the research center, are both situated in the US. However, Canada has a plant under Masonite where it makes doors if we talk about manufacturing.
Does Jeld-Wen make reliabilt?
Though Reliabilt is exclusively a part of Lowes, they are manufactured by different door manufacturers on the market. One such door manufacturer is Jeld We. So, technically, you can say that Jel-Wen also makes Reliabilt doors. All the Reliabilt by Jeld-We is manufactured in the US.
Final thought
Here we are at the end of my comparison. As you can see, both brands' exterior doors have their fair share of pros and cons. So, in the end, it comes down to your personal preference. Throughout this guide, I hope I pointed out all the differences and similarities between Jeld-Wen vs Masonite exterior doors. You have to pick the brand that goes better with your style, budget, and need and give your home a new look.