Most people love designer windows and doors when building their residential homes. However, getting them is a hard task. Most markets have turned scammers, making it hard to know legit ones. I have come up with Simonton vs PGT windows to help you solve this problem.
The main difference between the two is that PGT utilizes WinGuard® technology and laminated insulating glass to manufacture high-energy efficient doors and windows. From this, they regulate excess heat or cold in your room and prevent hurricane debris from breaking your glasses.
About Simonton Windows
It was founded in Pennsboro, West Virginia, in 1946 by Fred and Synbil Simonton. They had a dream of manufacturing high-quality exterior windows, so they came up with Pent Vent Awning.
In 1981, Simonton's son took the company to the next level by producing energy-efficient vinyl products. He wanted to differentiate the company from other brands. Therefore, Simonton was born. Simonton uses a streamlined process by cutting vinyl products into slats, making frames out of them, and then fusing them together.
About PGT Windows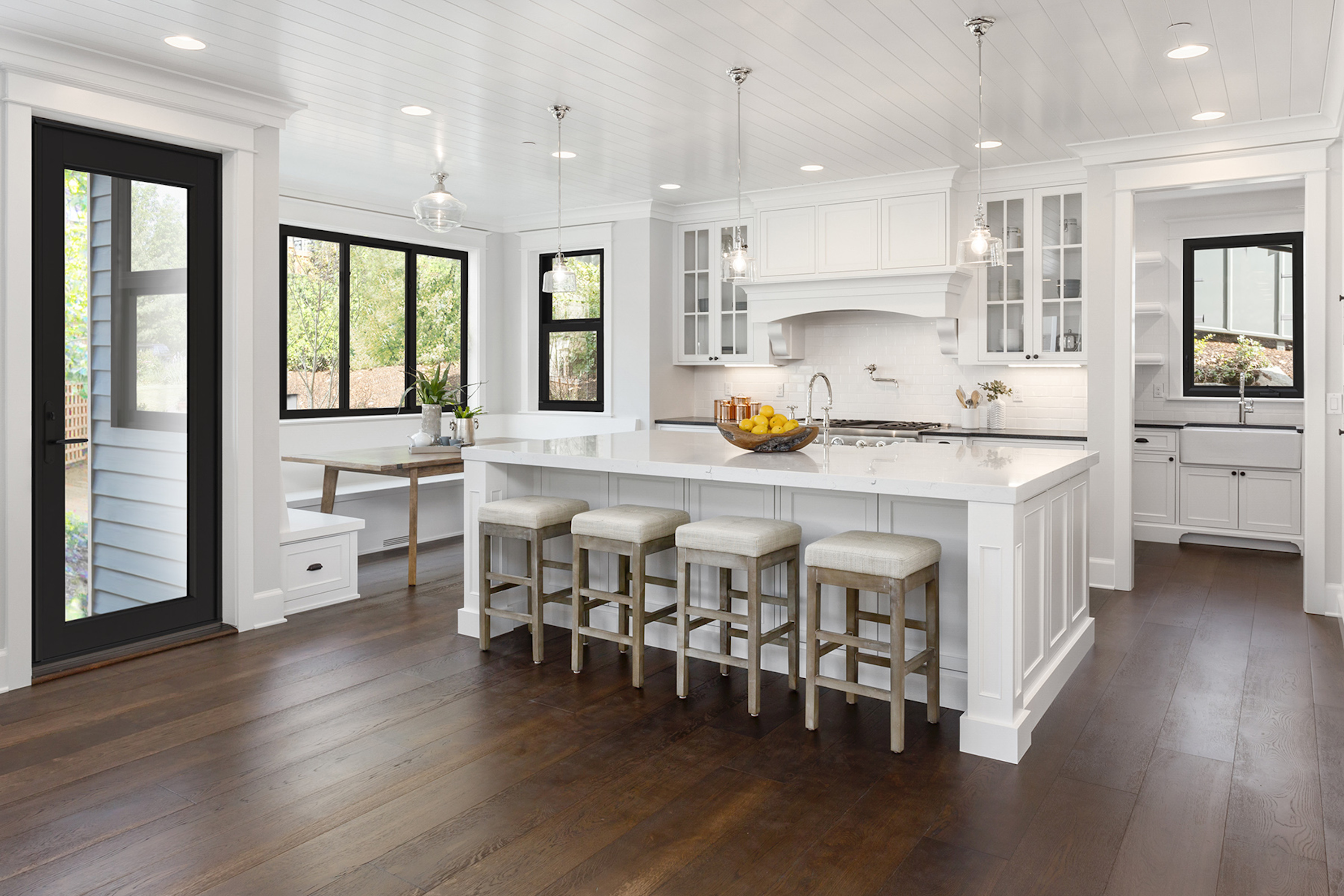 Founded in 1982 to provide solutions to the hurricane windows industry. Today, PGT custom windows are the leading manufacturer and supplier of impact-resistant windows and doors.
On top of that, PGT offers full impact resistant and energy resistant replacement vinyl windows + doors. Mind you; each window is highly designed to serve specific options and purposes. Kindly find the best prices for new windows and doors in your neighborhood.
If you live near the coast, know that you are well catered for. PGT professional coastline installers usually do one storm window + door installation for $485 for hurricane homes. These windows will withstand all hurricane debris.
Additionally, the company has developed powerful windows engineered to withstand extreme weather conditions. They are noise-resistant glass and prevent 99% of dangerous UV rays of sunlight from entering your home.
Simonton Vs PGT Windows: Quick Comparison Table
Specification
Simonton
PGT Windows

Features

Durable

Low maintenance

Easy to operate

Look great

Energy efficient

Advanced glass packages

Easy-glide performance

Impact-resistant glasses

Timeless style classic wood

Elegant stature of brickmould 600

Sleek and narrow profile

Autosense lock

Black laminate frame

Integrated pull rail screen

Single-hung tilt

10 decorum exterior colors

glass breakage warranty

Energy star

Premium hardware

Premium vinyl

8 glass door panels

It  has an expansion of up to 40."

Maximum panel size of 5'w x 8'h or 4'w x 10'h

The overall opening size of 40'w x8'h or 32'w x 10'h

A dual-point locking mechanism

Heavy-duty tandem rollers 

Easy fingertip opening

Hidden installations

Assembly screw 

Sleek finish appearance

Reduces 99% of harmful UV sunlight rays

Laminating insulating gas 

Glass option

Gas fill

Low E

Insulating spacers

Spectra-Clear glass

Energy Star

Frosted glass

Rain effect glass

Obscure glass

Gray or bronze tint

Flemish pattern

Reeded pattern

Heat-strengthened glass

Laminated glass

Laminated insulating glass

Low E

Energy Star

Tempered glass

Small and large missile protection

Safe impact resistance

Forced entry protection

Decreased sound transmission

Design

Window

Double Hung

Single Hung

Slider

Casement

Awning

Bay  

Bow

Picture

Garden

Custom shapes

Geometric

Door

Sliding

Hinge exterior

Exterior patio

French

Center hinge

Windows

Single-Hung

Double

Sliding

Casement

Fixed

Radius

Geometric

Bay

Awning

Bow

Door

Durability

Long-lasting

Long-lasting

Maintenance

Low

Low

Uses

Frame and materials

Energy efficient

High

High

Installation

Easy

Easy

Product line

StormBreaker Plus

DaylightMax

Warranty

Lifetime

Limited lifetime

Prices

$150 to $1000 for Windows

$500 to $2500 for doors

$450 to $1165 for windows

$500 to $4500
Difference Between Simonton and PGT Windows
Features
Most companies have dreamed of manufacturing the best products in the market to meet customers' satisfaction. They come with different features and options to meet these demands.
Therefore, Simonton glasses reduce 99% of harmful UV rays, which can destroy your health. While PGT windows have an integrated pull rail screen.
Also, PGT has laminated glass to reduce excess lights in the room and allow the required amount only. In contrast, Simonton has a black laminate frame in its windows.
Glass Options
Glass is another big difference between these two giant companies. Its strength and efficiency are what matter the most. Can it withstand harsh weather conditions? Can it prevent hurricane debris or forced breakage? Let us go through them.
Simonton has gas-filled glass to reduce air infiltration, energy efficiency, and heat reduction. In comparison, PGT has heated annealed glass to approximately 1300°F. At this temperature, the glass reaches its softening point.
Therefore, this allows the glass to withstand more rapid and uneven temperatures in the future as it is twice stronger than before.
On the other hand, Simonton glasses have an insulating spacer to reduce heat transfer into the room. PGT, on the other side PGT has a unique silicone glazing process that keeps insulating glass windows and doors from breaking away from the frame.
Also, insulating glass has two panes of glass separated by air or other gas, which prevent heat transfer into your room.
 Besides, Simonton has roasted glass, obscure glass, and bronze or gray tint glass to minimize the amount of light entering your room. While PGT has laminated insulating glass. The glass has three-pane layers.
Two panes bonded together with a strong, clear interlayer for impact resistance. At the same time, the other one is added as a laminating glass. All three will behave as one glass, bringing warmth and preventing excess light into your room.
Lastly, PGT glasses have tempered designs for durability and to withstand forced breakages. Tempered glass is produced by heat-strengthened design. It is passed through a heat of 1300°F. After that, it is cooled more rapidly to create higher surface compression.
Let me say this straight; this process makes the glass resistant to blunt impact and tolerant to weird temperature changes or seasons.
Frame and Materials
The frame is equally essential in installing windows and doors. One of the questions you have to ask yourself is whether they are rot-resistant, weather-resistant, or impact-resistant. I will bring you up to speed on the difference in the frame between these two companies.
Simonton brand has asure frame collection, which provides sleek features. They are energy-efficient and long-lasting. This feature is found in double-hung, slider, picture, and geometric.
While PGT has ClassicVue™ doors and windows built extruded aluminum frames with mechanically fastened corners, they protect against impact from hurricanes and intruders. They also have a corrosive resistant design which enhances durability.
Product Line
It ranges from different methods used in designing and manufacturing any product. Simonton and PGT have different product lines which define them.
Simonton features StormBreaker Plus, which is suitable for coastal homeowners. They are perfect for preventing coastal weather. They have hurricane-rated designs to prevent hurricane debris from entering your room. Due to their sturdiness, they protect against forced entry and breakages.
On the other side, PGT has EnergyVue®, which is extraordinarily durable and capable of withstanding high design pressure. Doors and windows with this design are highly energy-efficient and offer unique insulations that keep the indoor climate comfortable and lower energy costs.
This design of vinyl custom collections utilizes WinGuard® technology vinyl line for unique non-impact energy-saving doors and windows.
Another key point is that Simonton has a DaylighMax design which ensures maximum light of up to 40% enters your room.
Apart from that, PGT has WinGuard® design with clear interlayer aluminum products which filter 99% of UV rays. Also, it is a highly rated impact-resistant product.
Warranty  
It is an essential element in the market. It guarantees security to any product that a customer purchases. Therefore, different companies have tried to come up with different warranties as they capture customers` attention. Let us see what Simonton and PGT have to offer.
Simonton offers a lifetime warranty, which is transferable, while PGT offers a non-transferable limited lifetime warranty.
Price
Unknown to many, price is not a determining factor on whether to buy a product or not, but quality is the main thing. Some are expensive due to the materials used during manufacturing. Therefore, do not run for cheap things.
Simonton sells its windows from $150 to $1000 while doors range from $500 to $2500. In comparison, PGT windows go between $450 to $1165 and doors from $500 to $4500.
You may also be intereted to know about the differences between cgi sentinel and pgt winguard.
What are the Similarities Between Simonton and PGT windows?
Much as there are differences between them, there are similarities as well. Bear with me as I take you through some of these similarities.
Design
Both brands have the same design of windows and doors. They include,
Single Hung

Slider

Casement

Awning

Bay  

Bow

Picture

Garden

Custom shapes

Geometric

Sliding doors

French doors

 
Energy Efficiency
The most important thing most people wish to do is cut energy costs in your home. Mostly during winter or summer. Both Simonton and PGT have invested in several designs and technologies to ensure that their products are energy-efficient.
Installations
Most Simonton and PGT products are sold online, which means it is easy to install. You are required to follow simple instructions to get your job done.
Maintenance
Products from both brands are easy to maintain. They do not require professional guidance. Most of them have a self-cleaning mechanism.
Durability
Both companies have durable products. They have heavily invested in technology to become both energies efficient and long-lasting. You do not have to worry because they take long before they disintegrate. 
Uses 
Both Simonton and PGT products target homes and commercial places to construct and replace doors and windows.
Which is better, Simonton or PGT?
Personally, I find PGT as the best brand. Because its glasses are tempered, they have gone through high temperatures of about 1300°F and rapid cooling to enable them to withstand any weather swing. Also, it helps them to prevent any forced entry. In other words, they withstand high impact force.
Also, they have utilized WinGuard® technology and laminated insulating glass to manufacture high-energy efficient doors and windows. They regulate excessive heat or cold in your room and prevent hurricane debris from breaking your glasses.
You can also read: Crestline Vs Jeld-Wen Windows – A Comparative Analysis on 10 Key Factors
Frequently Asked Questions
How do Simonton windows rank?
Ranked number one highest vinyl window producer
Are Simonton windows made in the USA?
Yes, they are based in Pennsboro, Harrisville, and Ellenboro
Where are PGT windows made?
They are based in North Venice, FL.
How long do PGT windows last
They offer a limited lifetime warranty
Are PGT windows energy stars?
All its products are ENERGY star compliant.
How do they take a screen out of the Simonton window?
To replace the screen. Slide it back through the opening and place it up and into the track. Then make sure the bottom of the screen is also in.
Final Thoughts
From what we have gone through, I bet you know what to include in your home should you want to build or renovate. Simonton vs PGT windows has covered extensive research on this topic. I look forward to hearing about your experience with them. Make a step today and purchase some of these products, and you will never regret it. Take it to greater heights. Are you ready?