Keeping our roofs in good condition and moisture-free is necessary to prevent moss growth. To clean moss properly and prevent further development, you can use Zinc or Copper strips. But we often feel confused when choosing between Zinc vs Copper Roof Strips.
Zinc Roof Strips can kill up to 4 to 6 inches of moss, whereas Copper Roofs can effortlessly vanish 8 to 10 inches of moss. Compared to Zinc Roof, Copper Roof Strips have a better cleaning ability.
What Are Zinc Strips For Roof Moss?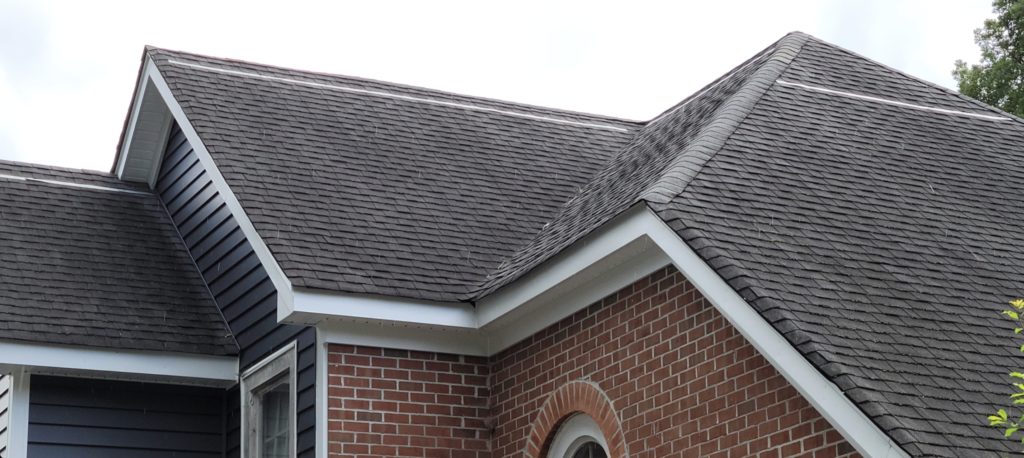 People have been using Zinc roofing strips for a long time to control and prevent moss growth. Manufacturers use poisonous chemicals on metal structures that kill moss and save other roof plants. Zinc strips mainly kill mold, algae, moss, and fungus, which mainly develop on the roof because of moisture.
Special anti-mold metal particles will release from the zinc strips to extract moisture from the roof and kill moss and other similar plants. It ensures long-lasting protection while providing a clean look on the roof.
What Are Copper Strips For Roof Moss?
Copper strips have a similar system to kill moss and protect our rooftop. Instead of chemical substances, copper strips include a natural fungicide that effectively kills moss and prevents further growth. Since copper strips are only placed on the ridge of the roof surface, installing them is relatively simple. They don't cause any damage to the roof due to their effective positioning.
They have impressive, long-lasting durability due to their increased melting point and lower thermal expansion. In addition, these roof strips require minimal maintenance and are highly lightweight.
Zinc Vs Copper Roof Strips: Quick Comparison Table
| | | |
| --- | --- | --- |
| Specifications | Zinc Roof Strips | Copper Roof Strips |
| Rigidness | Decent durability | Highly durable |
| Killing Capacity | Can kill 4-6 inches of moss | Can kill 8-10 inches of moss |
| Price | Affordable price options | Expensive price tag |
| Installation Process | Slightly difficulty | Simpler than zinc |
| Cleaning ability | Average | Better cleaning ability than zinc |
Difference Between Zinc And Copper Roof Strips
Undoubtedly, both zinc and copper roof strips have some dissimilarities that set them apart and make one option better than the other in different scenarios. Let's know their core differences. 
Rigidness
When it comes to controlling moss growth, Zinc strips can show a reliable performance up to an extent. This type of strip can effectively kill mosses with 4-6 inches. Hence, you may have to go for multiple layers to control the whole moss growth if they are too huge and thick.
The zinc strips will smoothly work if rainwater touches them. This will cause the rainwater to flow away from the roof surface. As a result, no organic thing will develop on the roof apart from the moss.
However, adding several layers of zinc strips is impractical for most residents since it makes the roof look ugly. In addition, zinc strips won't last a lifetime. Generally, their quality deteriorates after passing 8-10 years.
In comparison, Cooper strips are highly durable than zinc. They are proven to kill a large area of moss. Their efficiency can cover up to 8-10 inches when you use it correctly. More importantly, you don't have to use several layers to control moss growth.
Other than these, their quality remains stable in various weather conditions. This makes them versatile too. However, they are more pricey than Zinc strips.
Price
Since household work is associated with a lot of expense, choosing a budget-friendly option is all we thrive on. Compared to copper roof strips, zinc roof strips are an affordable option. The average price of a 60-foot roll for Zinc roof strips will be around $40 with nails. However, the cost will be almost half when you purchase the nails separately.
On the contrary, Copper roof strips have an average price of $40 for a 10-foot roll, which is more on the high-priced side. However, the cost of stripes may vary based on the brand, thickness, and size. But still, zinc is a better affordable option than copper.
Decent Killing Properties
Although zinc and copper have excellent killing properties, copper is more effective in killing moss precisely due to its high-performing capability.
Cooper strips are highly potent and long-lasting, but you must spend more money to use this product. According to several types of research, copper strips have a double effect on killing moss than zinc. The reason is that they have high-quality materials to deal even with the most arduous and strongest mosses.
Zinc strips are better when you want a pocket-friendly option since copper is an expensive option. But if you want to get the finest quality and long-lasting result, nothing can match copper.
Choosing ideal roof strips requires you consider the environmental condition in your area. If your location is prone to developing moss rapidly, you should select more effective products. You may save some for a short time. But it won't give effective results. Using copper strips will enhance your rooftop's protection for over a decade.
Installation Process
You won't face any problem installing both zinc and copper strips on your roof easily. You don't need to hire an expert to get the job done. Though professionals can do the job better than household owners, you have to pay for their service. This will increase the overall cost. However, as a DIY enthusiast, you should try to do the installation task of your own to have a new experience, which can help you install strips on the roof next time.
How to Install Zinc or Copper Strips on Roof?
You don't have to follow different installation approaches to install these strips. You can go through the same method for both.
Installing zinc or copper strips requires you to follow some basic steps. Here are some essential steps you must follow to complete the job.
First, you must secure your rooftop's harness system and ensure you read the manufacturer's guidelines and stick with them to guarantee a perfect installation.

Some loose moss might be there. Use a push broom to get rid of all of them by sweeping gently to the surface. Remove as much as possible.

Now, start attaching a strip right from the ridge of your rooftop. Water will absorb the zinc particles during the rain and make way for depositing them along the roof. This will stop the additional growth of the moss.

Next, set up another strip below the several patterns of shingles. You should make sure their half part is hidden under the shingles while the rest of the part is fully open.

Place the copper or zinc strips on half part of the roof nails while the other part will be only roofing nails.

It is necessary to set up a bead of roofing cement for all nails separately before nailing all the spots. The small holes generated from the nail will be adequately handled under this approach.

Now, you need to go for another application of a bead of roofing cement. Apply it from the upper part of the nail after it has been completed all the way.

Follow the same approach to apply roofing cement to the other parts of the nails.

Ensure you protect the grass or plants below the roof by spraying water. This will ensure no bleach spreading.

Next, you need to make a solution using around 500 liters of water and 1.5 liters of bleach. Mix the mixture properly.

Spray the solution evenly to all areas of your rooftop and let it stay for a few days. This will destroy all the remaining moss easily.

You need to remove your roof harness system carefully without displacing the strips.

Make sure you re-apply the grass and plants below the roof to make them fresh and lively.
What are the Similarities Between Zinc and Copper Strips?
Zinc and copper strips have some dissimilarities but many things in common. Here are they:
Zinc and Copper Strips almost have unchanged killing capacity.

Their working mechanism is almost similar.

Both roof strips have a decent quality.

Their installation process is not different.

They are easily available.

Both of them are suitable for different materials of house roofs.

They are compatible with various environmental conditions.
Which One Is Better: Zinc Or Copper Stripes?
You have already learned all similarities and dissimilarities of both roof strips. Each roof strip has some unique specifications that are apart, making them an excellent choice for house roof protection.
But copper strips can be more reliable for protecting any house roof than zinc strips. Here are the top reasons why we prioritize copper strips over zinc strips.
Copper strips require minimal maintenance, perfectly ideal for tough or risky locations to access after installing them.

Due to the effective and powerful formula, Copper strips can kill and prevent the development of moss, germs, algae, and molds.

You can use a wide range of installation approaches when using copper stripes that homeowners have been practicing for a long time.

Copper strips are more flexible since they are available in various sizes and angles. Instead of using too expensive clay ridge tiles, you can utilize Copper strips to get the same benefits.

As the roof ages, copper sulfate escapes, preventing the growth of moss and algae.

You neither need to have any special nor learn any technique to install copper roof strips since they are pretty simple. More importantly, they feature a non-complicated block end mechanism.
However, following the right approach is necessary to ensure long-lasting durability and increased protection.
You can also read: Jeld-Wen vs Pella Windows – A Comparative Analysis
Frequently Asked Questions
Is copper or zinc better for roof moss?
Copper strips are better than zinc for roof moss since copper can kill more moss and its durability is higher than zinc. It has a simpler installation process and better cleaning than zinc strips.
How long do zinc roof strips last?
Though many manufacturers claim their roof strips can last more than 20 years, most zinc roof strips will are likely to last less than ten years. However, the zinc-plated, galvanized steel strips may last a little bit longer.
Do copper strips on roofs work?
If your roofs are made of slate, shingles, or cedar, copper strips will indeed work to kill and prevent the growth of moss, lichen, mold, and algae. Their effectiveness will last for several decades.
Do zinc strips on roofs work?
Zinc strips can work on roofs by gradually releasing zinc particles when they contact water. However, their effectiveness may not last for a longer time, unlike copper strips.
Does copper stop moss on the roof?
Apart from moss, copper strips effectively kill other moss-related plants, such as algae and lichen. Also, it controls and prevents the growth of copper strips with its natural fungicide without damaging the roof.
Final Thought
So, which roof strips have you decided to choose after learning about the comparison between zinc vs copper roof strips? Though copper roof strips are a bit pricey, it is worth the price you spend due to their extreme durability and effectiveness.
However, zinc is better than copper if you want a cost-effective option. Hopefully, this article has helped give a better overview of both roof strips.